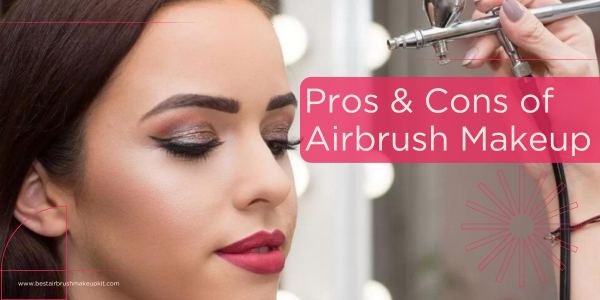 Confused about whether to use Airbrush makeup or not?
I am here to help.
Being an Airbrush Makeup Artist for quite a few years now, I get this question from time to time  (especially from clients for bridal airbrush makeup for weddings) 'Is Airbrush makeup good for them?'
When done with the right Airbrush Makeup Machine, Airbrush Foundation, and other tools, Airbrush Makeup will give you a flawless finish.
But there are cons of airbrush makeup if you don't have the right airbrush makeup techniques and information.
Let's see the Pros and Cons of Airbrush Makeup by understanding Airbrush Makeup first.
We have an awesome infographic on 'Pros & Cons of Airbrush Makeup', do check it out at the end of the article.
The makeup that is sprayed onto the skin by using an airbrush rather than being applied with sponges, brushes, fingers, or other traditional methods is known as airbrush makeup.
An airbrush Characterization of an airbrush is broadly done through 3 major parts. With the help of a medical-grade hose, an even and controllable airflow is created through a powered compressor. A metal, trigger-actioned gun is attached to the hose. For your convenience, the system of airbrush makeup can be altered that can easily be adjusted to any form of makeup you desire. From lighter and heavier to detailed or broader makeups, you can achieve your desired look by changing the air pressure (typically measured in pounds per square inch).
This kind of makeup is highly popular in film, theatre, bridal makeup, and sunless tanning.
Formula options available in airbrush makeup:
It is very tricky to understand the formulas available in this makeup range. Proper knowledge about these formulas will enable you to decide the best application for you, either for regular day makeup or for special occasions like your wedding.
Water-based Makeup Formulation
The water-based formula makeup is a great choice if you have oily skin. It delves into providing you with a matte appearance. But overuse can lead to drier and sometimes cracked skin which makes it not durable.
Silicone-based Makeup Formulation
The silicon-based makeup is great if you have dry skin. It gives you a real skin appearance finish. Moreover, it offers a long-lasting stay and moves and flexes according to your expressions and skin. It is an excellent choice if you are living in an area with humid weather conditions.
Alcohol-based Makeup Formulation
The alcohol-based makeup is especially used to cover tattoos or birthmarks. It is also used for special effects or body painting.
Techniques used while using Airbrush makeup:
While applying the airbrush makeup, the users have to apply it in circular and forward-back motion through an air gun while applying the foundation. It is important to first get a perfect match for your skin tone by mixing the foundation colors in various ratios. A light spray of makeup comes out of it in the form of a mist whenever the machine is turned on, and the trigger is pulled. The fine mist of colors covers the skin, giving the user a flawless complexion.
There are two types of airbrushes that can be used for airbrush makeup, i.e., dual-action and single-action airbrushes. The dual-action airbrush allows the user to control the airflow by depressing the trigger with the index finger and drawing it backward. On the other hand, a single-action airbrush is much easier to apply than a dual-action airbrush. The nozzle has to be changed between applications to achieve different levels of coverage and details.
With a PSI range of 0 to 35, the techniques and application through airbrush work very well. An airflow of more than 15 PSI cannot be achieved via the compressor that is specially designed for personal use. If you are looking to use airbrush makeup around the face and eyes, then a low PSI is recommended for your use. On the other hand, PSI with higher value aids in the full-body application for covering blemishes and tanning quickly.
It is recommended to spray the makeup from a distance of 6 to 12 inches. Along with amazing color variations, you can create different and complicated images through the use of a combination of stencils and freehand techniques. They are used to doing body art and temporary tattoos.
Some airbrush makeups are entirely waterproof and need to be taken off with a specific remover. For instance, silicone-based airbrush fluid is impermeable, mainly depending on how much and how you set the makeup.
Pros and Cons of Airbrush Makeup:
Pros / Benefits or Advantages of Airbrush Makeup
Layering can be done easily:
One of the major advantages of airbrush makeup is that it is very much easy to layer through it. Whether you prefer light coverage or a sheer finish, the customizable application method makes it highly easy for you. You can easily add more layers for extra coverage as the application of the airbrush makeup is done in such a fine layer that it dries up instantly.
A flawless, smooth base is a key highlight for seamless makeup. Airbrushing delves into the smooth finish of your base, which helps the rest of your makeup to be applied well. Due to its durability, it demands fewer touch-ups making you always camera ready.
Coverage can be built according to your need:
The area that needs more coverage, like blemishes, can be fixed through airbrush makeup's minimal amount of application. The coverage really stays longer than traditional makeup, which makes it a great option for people with pimples and pigmentation. If the user's application and technique are on point, then nothing can beat the type of flawless and minimal application of airbrush makeup to hide pimples and other blemishes.
With proper training and guidance, the airbrush makeup can be applied very quickly and easily. In fact, all you need is a credit card or any card instead of a professional stencil. It's quick and incredibly sharp for applying a feline flick to several girls at a bridal party.
A little amount of airbrush makeup goes a long way:
Traditional makeup can give you a feel of a heavy coat of foundation, making you look cakey and uncomfortable. But on the contrary, airbrush makeup makes you feel exactly the opposite. Airbrush makeup requires fewer products, and it gives you more coverage because of the spray application process.
More long-lasting makeup:
Since most of the airbrush makeup is silicone-based which gives it the advantage of long-lasting coverage and water-resistant durability. This protects you from wasting your time with constant touch-ups and fixing. Attending long events and ceremonies with lots of hugging and kissing can now be easier for you.
Known for its flawless finish:
Airbrush makeup's application allows for makeup to be applied evenly into fine lines that offer you an impeccably smooth finish.
The airbrush makeup technique is much more hygienic than traditional makeup. The use of applicators and tools on various people's skin can make it hefty with germs making it harmful to your skin. The skin is not constantly touched by any applicator during makeup application. The makeup can be done faster if done by a trained artist.
Airbrush makeup is a much safer option than traditional makeup. Instead of being pressed down into the pores like through sponges and brushes in traditional makeup, the air gauges used in airbrush makeup make the makeup sit only on the outermost surface of the skin. This allows the skin to breathe so that the makeup feels light and natural. This makes it perfect for sensitive skin people as it minimizes the chances of skin reactions.
Cons or Disadvantages of airbrush makeup
Airbrush makeup only looks amazing if your skin is properly moisturized and hydrated. But unluckily, if you have dry, flaky skin, then the constant spray can make it look flakier. As the formula is waterproof, the consistency is a lot less creamy than found in a traditional foundation. If you have dry skin, it is recommended to either boost it up with a good serum and face oil or consult your makeup artist to see how the airbrush makeup can be applied to work for your complexion.
Fixing airbrush makeup and giving you an original look again and again can be very difficult to do, especially if you are a tear-prone person. It is hard to find those sports and fill it in with airbrushing, which makes it a lot harder to re-create your original, flawless look.
Limited options of shades:
Unlike traditional makeup foundations, airbrush makes up has a limited shade range which makes it difficult for you to find an idle one for your skin tone. The type of foundation formula used with an airbrush is different than everyday foundation, and there's a more limited selection of shades and brands due to the fact that the formula used in making airbrush makeup is much more different than the one used in traditional makeup foundation. You may find that your skin matches better with a traditional foundation.
It is typically more expensive than a normal makeup application as it requires special skills and tools for its application. If you're planning to pay for your bridal party's services as well, airbrush makeup may not be a very cost-effective choice. It is always advisable to first go for a makeup trial, which helps you to see if airbrush makeup is worth its price tag.
Tendency to lose your face dimensions if applied unprofessionally:
If not expertly applied, your makeup can look flawless but flat-lacking dimension. Losing dimension means you run the risk of your makeup looking like a mask. That's why finding a skilled professional is extremely important.
Not for heavy acne-prone skin:
If you have scarred skin with active breakouts, you cannot expect airbrush makeup to cover it like a smooth textured canvas. In such cases, regular makeup might be better suited for acne-prone skin types.
Airbrush makeup for weddings:
A perfect wedding demands everything to be the best and on point. Whether it is a small intimate wedding or a big fat grand wedding, every bride's dream is of a flawless memorable day. From food to decorations or music, all we need is for our guests to remember the ceremony for months. Apart from having a perfect dress, every bride is very meticulous about her makeup on her day. Flawless makeup will not only make your groom's eye pop but also make you photo-ready. You also need to take care of its durability as it has to last from those emotional first tears at the ceremony through your grand, confetti-strewn exit.
Why choose airbrush makeover traditional makeup for the wedding?
It is water-resistant, which means it is resistant to sweat and tears.

It is transfer resistant which means it would not rub off on other people's clothes during hugging.

Even though it is weightless but can also provide you with full coverage. Airbrush makeup can give you light sheer coverage, medium or full coverage. If you like it light and natural, allowing your skin to show through, the artist may do just 1-2 passes. If you like a full-coverage opaque look, they will do a few more.

The makeup artist can mix and match each foundation to customize that perfect shade for your face.

It is known as filler as the formula used in it contains 60% silicone which helps to fill in lines, pores, and imperfections.

It is all-day wear as it comes with a durability guarantee of about 10-12 hours a day.

The spray dot pattern of the airbrush blurs the appearance of the skin, resulting in a flawless face on camera.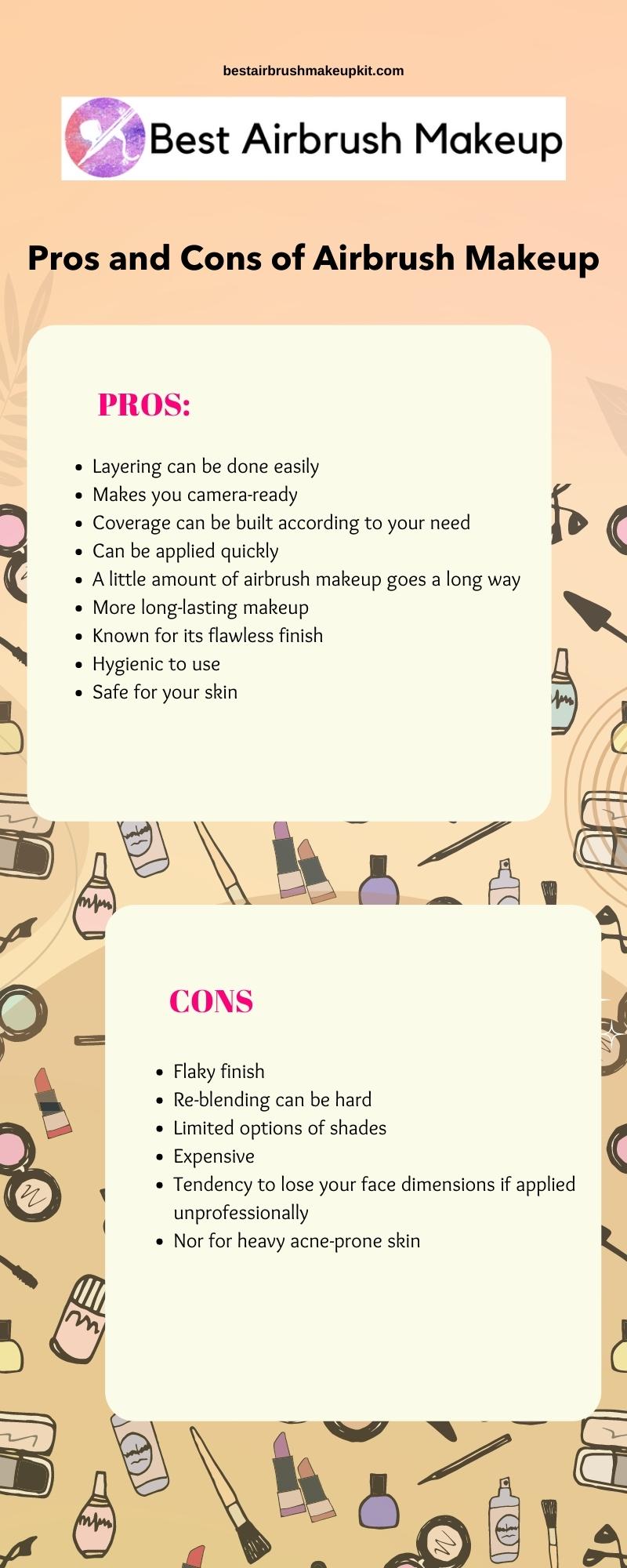 Hi, I am Jay Maximus, the guy behind this website. I am an Airbrush Makeup Expert and founder of 'Jay Maximus Airbrush Makeup Studio', a Professional Makeup Studio in Manhattan, NYC. I write about Airbrush Makeup Tips and techniques here on this website. If you want to know more about me, you can click right here – "About Me"