Tired of your foundation's base regularly breaking down or your uneven settling of foundation on your oily pores?
And do you find it hard to find that one perfect match for your skin tone?
Or just want to break the monotony of regular touch –sups?
"Yes??"
Then Airbrush make-up foundation is all you need.
Foundation is the most basic step for your flawless look and a wise choice of correct foundation can end all your nightmares of make-up malfunctions.
But you might be wondering:
With so many options online, How to find the "Best Airbrush Makeup Foundation"?
Thus I have curated a list of some of the ruling brands in airbrush make-up foundation industry.
Our Top Rated 'Best 

Airbrush Foundations'
Here's a quick snapshot of our Expert's picks.
TRU Airbrush Makeup Mineral Foundation –
Our Expert's Choice.


Art of Air Airbrush Makeup Foundation-
Best Seller.
Right now there are hundreds of Airbrush Makeup foundation brands in the market which claims to be the perfect one for you.
Thus:
We tested almost all of them with our Airbrush makeup machine in our Salon-Makeup Academy and here's a curated list of Best Airbrush Foundations for you: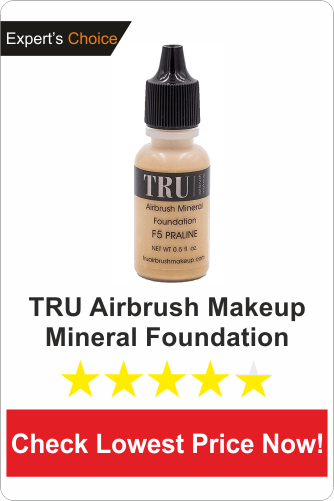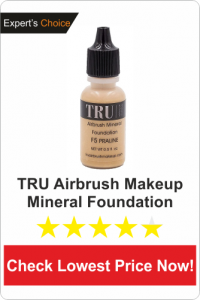 TRU airbrush mineral based foundation is our expert choice as it is Ultra Healthy True Mineral Airbrush Makeup. Giving 18 hours coverage it cut shots all the hectic washroom sessions for touch-ups.
Made in USA this foundation gives a High Definition Makeup quality look. TRU Airbrush was proudly chosen as the makeup for Miss America 2015 up close and personal interviews. Being a mineral based airbrush foundation once after applying you will find an immense difference of glow and natural radiance on your skin.
Finding a perfect foundation? Here your search ends as it guarantees a long lasting water based base for your makeup. It gives you full coverage look but not a cake face. It gives you a natural look by not masking your flaws but just camouflaging them with itself.
TRU makeups are not oriented towards a specific skin type rather it suits all of them. TRU Airbrush Makeup is a hypoallergenic product. It is a non–comedogenic product which will not clog your pores and let them breathe between the micro- fine dots patterns of the makeup.
Thus it is also known as a breathable makeup. It is enhanced with soy protein which enables in skin tightening and aids with longevity. Most of the customers declared it as the smooth and silky make up.
This mineral-based airbrush foundation comes in 4 shades:
Caramel

Chestnut

Cinnamon

Praline
Pros:
Full and Natural Coverage

Mineral Based

Dermatologist Tested

Long Lasting Makeup

Allergy Free
Cons:
---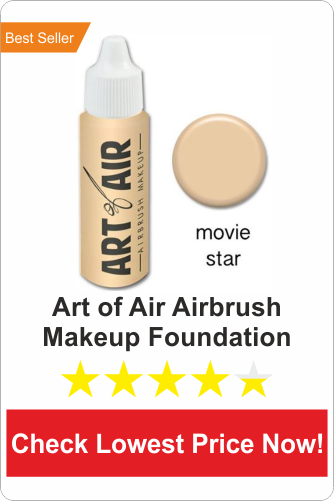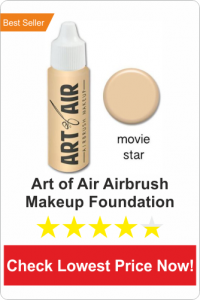 Designed for everyday use this mineral based makeup foundation is a lightweight product with no harmful pesticides or paraben. It is oil-free and fragrance less product. With a good long wear without making the face cakey makes it an ideal option for everyday use. With just a single spray the fine mist quality product sits evenly on the skin making your face naturally glowing and flawless. It covers all your imperfections and thus giving your face finished look.
Foundation is for every type of skin especially sensitive skin as it is hypoallergenic making it a pure perfection. This foundation can also be applied by foundation brush if you don't have an airgun. It is a Dermatologist recommended product which has an ability to perfectly match to your unique preferences.
But on the contrary, it can become chalky if applied little more than required and not good for a full summer season as it is not a waterproof make up.
Art of air airbrush makeup foundation has 14 shades :
Movie Star

Buff Beige

Caramel

Dark Olive

Ebony

Golden Olive

Honey

Light Coco

Medium Coco

Mocha

Sand

Suntan Glow

Tawny Beige

Warm Beige.
Pros:
Full and natural coverage

24 hrs. long lasting

Light and natural

Suits sensitive skin

Paraben, oil, fragrance and alcohol-free
Cons:
Not Perfectly Water Resistant

Sometimes becomes Chalky
---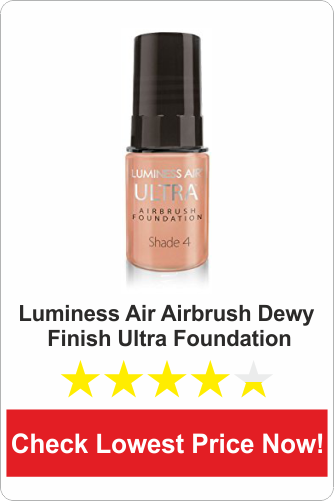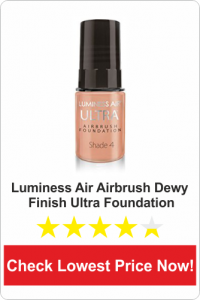 Searching for everyday ideal wear then here comes the lumpiness air airbrush foundation which is both Dermatologist and ophthalmologist tested. It is hypoallergenic which makes it suitable for sensitive skin. It has a water base and declared as non-comedogenic thus preventing of your blockage of the pores making them breathe. It gives you upto18 hours of stay with full coverage from all your acnes, blemishes, uneven skin tone etc.
Moreover, it is paraben, oil, fragrance and alcohol-free making it an idle choice for daily use. From an environmental point of benefit it is not tested on any kind of animal. Each foundation is buildable and breathable, so your look can be as light or full coverage as you'd like.
Not only has the foundation had different shade pallet but also different types of base. Everyone one has different skin texture thus this brand ensure to have a type of product for each and every face.
Various kinds of foundations are:
Luminess air Silk – It offers luxuriously smooth and silky finish along with along with bendability and drying to a rich smooth skin.
Luminess air Ultra – It allows your skin to breathe without compromising on your coverage. It creates a perfect balance between dewy and matte finish.
Luminess air matte – Provides you  flawless traditional powdery finish with medium to full coverage without a

thick

and cakey look
This foundation comes in 12 dewy finish shades:
Bloom

Buff

Chestnut

Chocolate

Cinnamon

Coffee

Expresso

Fawn

Golden Beige

Java

Porcelain

Sun Kissed
Pros:
Full and natural coverage

Dermatologist and ophthalmologist tested

not tested on any kind of animal

Parabean

, oil, fragrance

and alcohol free

long lasting

Small amount for full coverage

Light and natural

Suits sensitive skin
Cons:
Not the best choice for oily skin

Not water resistance
---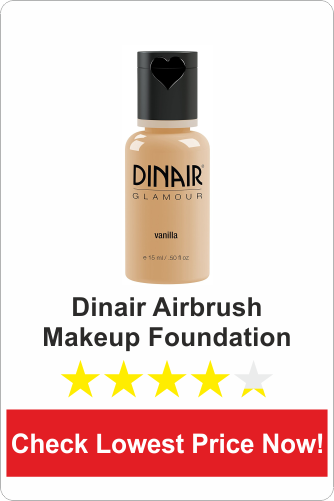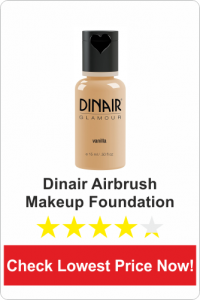 This USA based product gives you medium to ultra-full coverage. It lasts 24 hours i.e. all day long and it is water and smudge proof makeup. It not only covers your imperfections like scars, blemishes and acne but its ultra-coverage quality covers the tattoos as well.
It is a very idle for everyday and professional wear as it is oil, paraben, talc, and silicone free. It is much long lasting when applied to the skin without moisturizer. Say goodbye to dirty sponges and brushes and welcome this touch-free technology. Applies flawlessly in seconds to block and conceal hyperpigmented areas and still look like your skin. Along with this, it gives your skin opaque matte finish coverage. It is Non-Comedogenic and Hypo-Allergenic making it a perfect match for your sensitive skin.
Dinair has 19 shads for your skin tone :
Alabaster

Bronze

Cocoa

Dark Almond

Dark Brown

Dark Golden Beige

Dark Olive

Egyptian Bronze

Golden Olive

Golden Tan

Honey Beige

Light Golden Beige

Medium Brown

Natural Beige

Nutmeg

Olive Beige

Soft Brown

Tawny

Vanilla.
Pros:
Full and natural coverage

Water resistance

24 hrs. long lasting

Suits sensitive skin

Paraben, oil, and alcohol-free
Cons:
Not found any.
---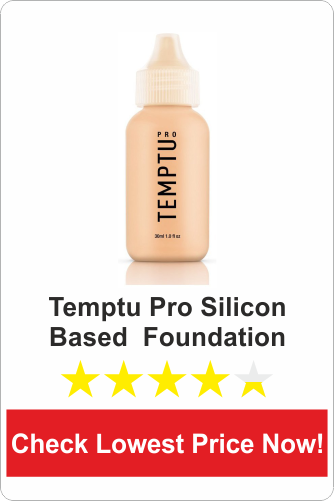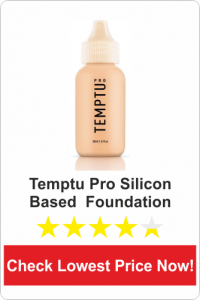 This foundation has a silicon-based formula making it a long-lasting wear for all day long. It is oil-free and non-comedogenic product making it idle for the skin to breathe through the makeup all day long. It is perfect for use on sensitive skin as it is a hypoallergenic base product. It has a wide range of common skin tone and thus can easily blend into your faces for a perfect match of the tone.
This silicon-based product results into sheer to full coverage thus providing with a natural glow on your face. As soon as you will apply the makeup on your face it will quickly dry off and thus it will not smudge further or any breakdowns. But to make sure you have a flawless finish never ever touch a single drop of water along this foundation as the color may wear off.
It is not for professional use as it has a little amount of shimmer at the end thus not making a glamorous finish. The best results are found in summer seasons.
This foundation has a wide range of 22 color shade pallet which includes :
001 Porcelain

003 Ivory

004 Sand

005 Pure Beige

006 Toffee

007 Golden Honey

008 Clay

009 Natural Mocha etc.
Pros:
Full and natural coverage

Water resistance

24 hrs. long lasting

Small amount for full coverage

Light and natural

Suits sensitive skin

Paraben, oil, and alcohol-free
Cons:
Thick in texture

Has a little shimmer

No usage of water when applying
---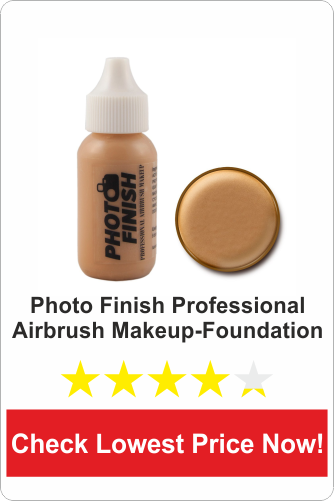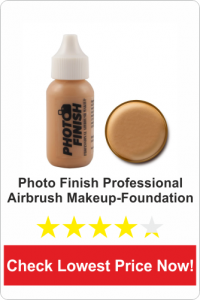 Looking good along with a healthy skin is the most awaited combo. Photo Finish brings in a mineral based foundation which performs both the activity of looking good and making your skin healthy. It is oil-free and non-harsh preservative product suitable for all skin types. Not only it suits all skin types but also it is all season wear makeup for you.
Along with longevity, it is water and smudge proof which can give sheer to full coverage for everyday use. Traditional makeup involves blending with various tools like a sponge or a brush which are mostly full of germs and bacteria.
Photo finish airbrush foundation is hygienic switch over for you as it sprays fine mist which evenly sits on your skin making your skin even tone. It avoids cluttering of foundation on certain specific spots.
You can give sheer to opaque coverage on your face according to the quantity you use. It has a full day and night coverage of 24 hours without any fall off, breakouts or smudge.  It is very light on your skin making it help to breathe.
This US made brand is not tested on any sought of an animal which makes it idle for environmentally conscious people. Moreover, it is paraben, alcohol and fragrance-free product making it perfect for usage.
It is suitable for all skin type especially sensitive skin as it is hypoallergenic. Some of the customers found this too thick for their machines. But this can be solved by mixing 1 drop of water with every 1 drop of foundation for a perfect result.
This mineral-based foundation comes in 9 different shades  which are :
Dark Brown Adjustor

Fairly Light

Fairly Medium

Golden

Golden Tan

Light Tan

Medium

Medium Beige

Medium Tan.
Pros:
Full and natural coverage

Water resistance

24 hrs. long lasting

Small amount for full coverage

Light and natural

Suits sensitive skin

not tested on any kind of animal

Paraben, oil, fragrance and alcohol-free
Cons:
Slightly Thick in texture
---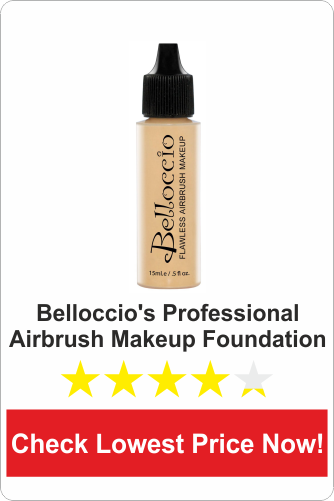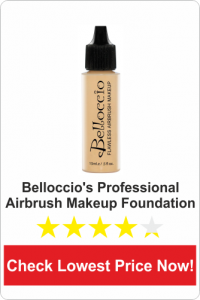 With a hygienic applicator, this foundation sits evenly on your skin because of its fine mist properties. It provides full coverage of all the kind of imperfections without blockage of your pores. Thus your skin becomes breathable and illuminates natural glow. It is very easy to use and thus you can get a flawless finish look very quickly.
Mastering airbrush techniques are simple and quick. It takes only minutes to learn how to apply the makeup correctly. It instantly covers all the blemishes and imperfections giving you a perfect ready to go look. It is a revolutionary water-based foundation which allows your skin to reflect its natural beauty. It is inexpensive thus making it an efficient choice.
The strange part of this product is its wide range of shades. It is product's strength as it gives a wider choice for the consumers but it also added a major disadvantage as people found it difficult to find their perfect tone match. Sometimes so much of a choice can also add up to a mess.
This foundation has 17 wide range of shade pallet :
Alabaster, Beige- Light-medium Pink Undertones, Blanc- Light with Yellow Undertones, Buff- Light with Golden Undertones, Cappuccino- Medium with Olive Undertones , Cocoa- Medium-dark with Red Undertone, Deep Ebony, Ebony- Dark with Neutral Undertones, Espresso- Dark with Red Undertones, Golden Tan- Medium Yellow Undertones, Hazelnut- Medium- dark Olive Undertones, Honey Beige- Medium with Golden, Peachy Undertones, Ivory-Light-medium Neutral Pink/Yellow Undertones, Java- Dark with red and Olive Undertones, Latte- Medium with Golden Undertones, Mocha- Medium-dark, Yellow Undertones & Vanilla.
Pros:
Full and natural coverage

Water resistance

Easy and fast

Long Lasting

Small amount for full coverage

Light and natural

Suits sensitive skin
Cons:
---
Buyer's Guide to selecting the best airbrush makeup foundation:
Foundation is an essential part of your Airbrush Makeup Kit. 
And choosing the Best Airbrush Makeup Foundation out of multiple brands of Foundations available online is a complicated task, as every Airbrush Foundation has some pros and cons.
Here at our makeup Salon Academy, we have reviewed many of Airbrush Foundations available and rated them based on their Consistency, Texture, Indegrents, performance with various Airbrush Guns, etc.
Still, if you have personal selections that matter, you should consider the following factors.
Correct skin tone – Getting your Perfect Foundation Match :
You should select the Foundation according to your skin tone.  Most of the foundation comes in 15-17 shades pallet. Thus to get even skin tone it is necessary to choose correct foundation shade.
A wise choice of selection comes with knowing what type of skin texture you have. Many of you will have oily skin, dry skin, sensitive or just normal. There are different types of brands providing a different kind of base material.  For e.g.: one with oily skin should always go for a silicon-based product as it helps in absorbing the extra oil.
Brands like Luminess provide silk, ultra and matte range of products. Hence you get a wider choice of base in a single brand for your perfect finish.
Just a flawless finish over the health of your skin is something you will not prefer to choose. There are varieties of brands which provide extra skincare benefits along with perfect natural glow.
For example Brands like Maybelline and Revlon are paraben free along with tested by dermatologists.
List of Top 7 Best Airbrush Makeup Foundation
TRU Airbrush Makeup - Mineral Foundation Review – Our Experts Choice.

Art of Air Airbrush Makeup Foundation - Best Seller Airbrush Makeup Foundation

Luminess Air Airbrush Dewy Finish Ultra Foundation

Dinair Airbrush Makeup Foundation

Temptu Pro Silicon Based Foundation

Photo Finish Professional Airbrush Makeup Foundation

Belloccio's Professional Airbrush Makeup Foundation
Summary
Here I am sharing my reviews on Best Airbrush Makeup Foundation for Airbrush Makeup Kits. According to my experience 'TRU Airbrush Makeup Mineral Foundation' is my expert choice. Apart from this 'Art of Air Airbrush Makeup Foundation' is the Best Seller Airbrush Makeup Foundation on Amazon.
We have spent tens of hours trying all these Airbrush Spray foundations in our Airbrush Guns at our Makeup Salon Academy and curated this list for you.
You can keep in mind other factors also while selecting the Airbrush Makeup foundation that suits you and for this, you can refer to this Airbrush Makeup Foundation guide for Airbrush Makeup Foundation reviews and decide which Airbrush foundation is best for you.
Hi, I am Jay Maximus, the guy behind this website. I am an Airbrush Makeup Expert and founder of 'Jay Maximus Airbrush Makeup Studio', a Professional Makeup Studio in Manhattan, NYC. I write about Airbrush Makeup Tips and techniques here on this website. If you want to know more about me, you can click right here – "About Me"